Self-adhesive packaging tapes with logo printing, produced by company KHASK LTD, is high demanded product on the market of packaging materials. This is related to the efforts of companies to distribute their brand and other information about the organization or services provided at high competitiveness. Self-adhesive tape with logo is the best for these purposes, because you can put on it almost any necessary information from the name of the company and its motto, to contact details and list of services. Such self-adhesive tapes will help you not only to pack up any kind of products, but also to provide specific information.
Self-adhesive tapes with logo – what is this?
Our production proposes a wide range of packaging materials, including both the simplest unicolor self-adhesive packaging tapes (transparent, white, snuff color, blue, green, etc.) and branded self-adhesive tapes for color-printing.
What kind of information can be printed on the self-adhesive packing tape?
Company (organization, enterprise, firm, etc.) brand (logo)

Trade Mark

Advertising Slogan

Contact information (telephone, fax numbers, e-mail, web-address, etc.)

What self-adhesive tapes with logo serve for?
Most modern organizations somehow using self-adhesive packaging prefer to use branded adhesive tapes with logo from the producer. It's made to achieve very simple thing – to deliver information about the brand to the surrounding people distributing it. Besides, self-adhesive tapes with logo provide product counterfeit protection as well as inharmonious package integrity violation. Criminals will not be able to falsify self-adhesive tapes with your logo, which ensures customers they purchased exactly your product, packaged with branded tape.
Self-adhesive tapes with logo also increases image of the company.
Except the logo additional text or graphics, which is very useful in cases when additional information for the customer is needed, as well as in case when one company provides various products.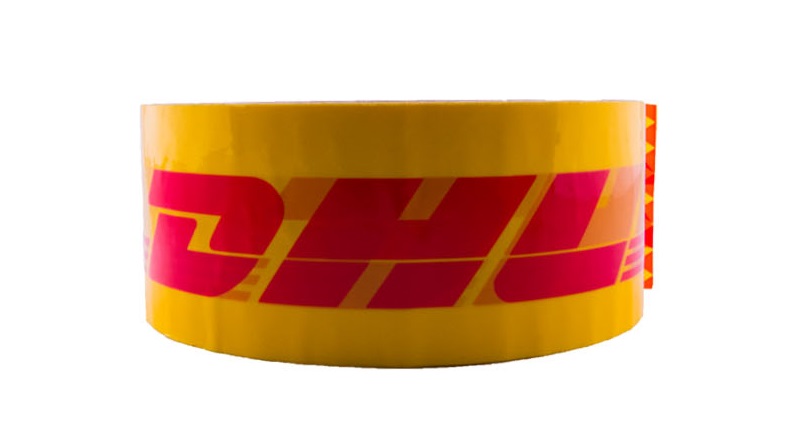 Self-adhesive tape with interlayer printing from manufacturer KHASK LTD.
Main production stages of self-adhesive tape with logo in compliance with the "sandwich" technology:
Design and coordination of image layout, applied on self-adhesive tape with the customer.

Design of cliché – special printing forms, used for forms transferring on polypropylene film.

Printing of the formed printing using high-speed six-color flexo printing press.

Printed film coat by adhesive coating on the printing surface on one of 4 modern coating lines, type of adhesive - by the customer's choice.

Cutting of Jumbo Rolls on rolls of the needed dimensions and packaging of ready-made goods.
Besides to the adhesive coating with sandwich printing, our company can produce also self-adhesive tape with upper printing. In this case the drawing is printed on the upper surface of tape with adhesive coating.
In the production cycle of self-adhesive tape with sandwich printing, the drawing is printed on the inside film surface, which is protected drawing from wiping up.