Self-adhesive packing tape is of the high priority for the production process of KHASK LTD. This type of packaging is used everywhere due to the ease of use and cheapness of material unit. In everyday life, office work, in warehouses and various industries, as well as in many other activity fields self-adhesive tape used daily.
KHASK LTD – producer of self-adhesive packaging tapes in Ukraine
Due to the huge prevalence of this package, our company offers to its potential customers a great variety of self-adhesive tapes.
We manufacture tapes of different widths and lengths of winding. Also we offer multi-color printing, as well as manufacture self-adhesive tapes with logo for individual project.
In our manufacture we use modern equipment which allows produce a high strength self-adhesive tape on cores of various diameters. Detailed information on the dimensions of the products is given in the table at the bottom of the page.

Self-adhesive packaging tapes
It is difficult to imagine life of any enterprise, organization and even a human being without self- adhesive tape in the modern. Every day we face with a need of it's using: in post offices, carriers, delivery services, holiday organization, office weekdays and even everyday life cannot be imaged without using any kind of self-adhesive tapes.
Self-adhesive packaging tapes for carton boxes sealing, transparent for daily application, multi-colored – for office or holiday organization and many other kinds of the product offered to the customers by our company.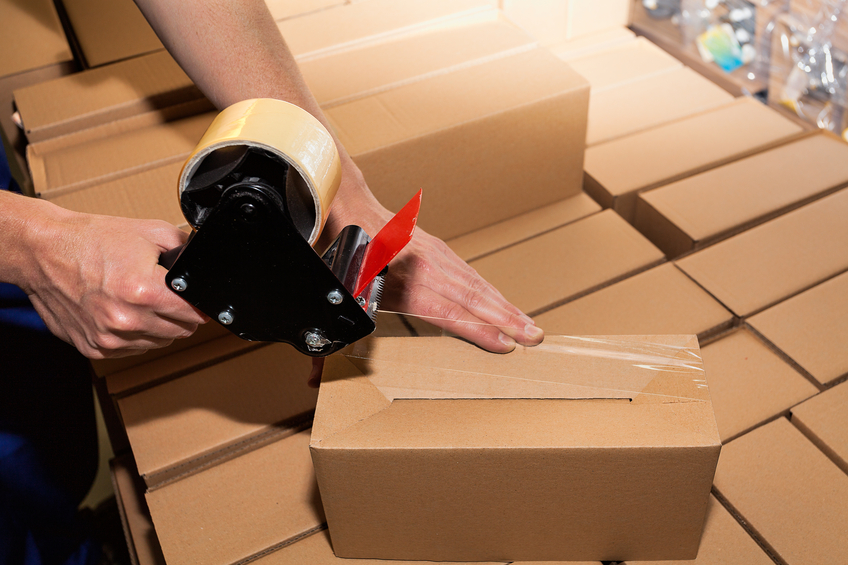 Primary virtue of self-adhesive tape:
Practicality, simplicity, versatility and ease of use

Available price

Adhesive layer without toxic substances in the composition

Weather and temperature resistance

Logo or any additional information printing.
Self-adhesive tape manufacture – «KHASK» LTD
Our company has many years of practical experience in self-adhesive tape production. Main production technology of our company for self-adhesive packaging tapes is adhesive coating on a BOPP film (Biaxially Oriented Polypropylene Film), coating on the special coating line.
It is necessary to note, that adhesive layer can be different, which will effect to the strength level of the  produced tape itself by any conditions.
Company «KHASK» LTD in the production cycle uses the following adhesive types: water-based acrylic adhesive, natural rubber based adhesive, Hot Melt adhesive (on the SIS rubber basis).
More information about each type:
Water-based acrylic adhesive is the most popular among adhesive materials used in the production process of adhesive tapes. It is enough stable for everyday use, but it can be not suitable for specific tasks, where higher sticky level is needed.
Adhesive on Natural rubber basis is more firm adhesive basis, which makes ready-made product more sticky and increases the package strength and stability. It is more frost-resistant than acrylic adhesive.
Hot Melt Adhesive typically shows the same properties as adhesive on natural rubber basis (frost resistance, high and instant adhesion), but at the same time is of  lower price.
The customer is always free to choose any kind of adhesive coating he is interested in - cheaper, but inferior in stability or more durable, but less affordable in price.

Production conditions for good-quality adhesive tape:
Temperature range – from +5 to +30°С

Low level of dustiness in the premises

Medium or slightly increased humidity level
There is no need to talk about self-adhesive tapes because of its simplicity. Basic requirements for the surface to be taped are dryness and no dust or other contaminants.
It should also be noted that self-adhesive tape rolls can be stored at the temperatures up to -30°C without the loss of their adhesive properties. However, you should place roll in place with a temperature of at least
+20°C before being used.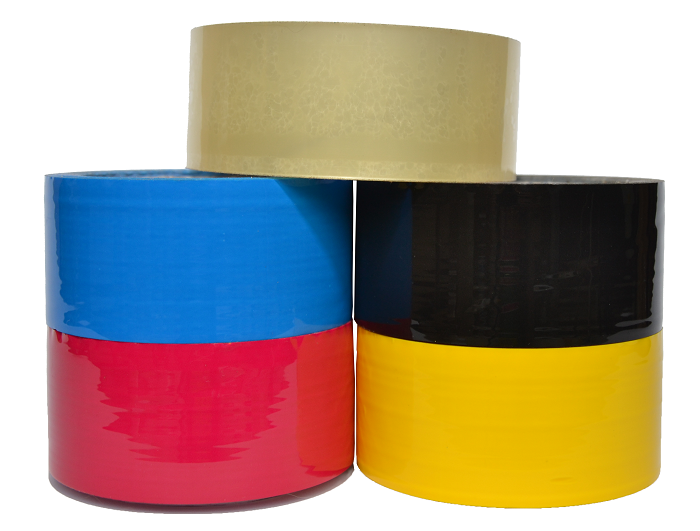 Company «KHASK LTD» manufactures self-adhesive tapes of any length, width and colors: transparent, tobacco, white, blue, yellow, green, red and others.
Self-adhesive tape, typical size
One of the main parameters when choosing an self-adhesive tape is a adhesive coating and color, but in addition, it is worth paying attention to such important things as dimensions - width and length of winding on a roll.
Production of our company offers self-adhesive tapes with a thickness from 38 to 50 microns, a roll width of 18 to 1600 mm and a length of winding from 10 to 1500 m.
The most typical parameters for self-adhesive tape manufactured is 24 mm, 36 mm, 48 mm, 50 mm, 72 mm and 75 mm.
Speaking about winding length, it is necessary to clarify that rolls up to 300 meters mainly produced for manual use or the use by dispensers (special unwinders for rolls). While for an self-adhesive tape with a long winding (990 meters or more) special automatic sealing machines are used.
Self-Adhesive packaging tape «KHASK» – standard dimensions:​
Name

(self-adhesive tape)

Width, mm

Length, mm

Roll QTY/ Carton

Carton dimensions (l w h), mm

48*15

48

15

72

400*300*300

48*18

48

18

72

400*300*300

48*20

48

20

72

400*300*300

48*25

48

25

72

400*300*300

48*30

48

30

72

400*300*300

48*50

48

50

36

380*300*300

36*25

36

25

96

400*300*300

36*30

36

30

96

400*300*300

36*50

36

50

48

380*300*300

24*25

24

25

144

400*300*300

24*30

24

30

144

400*300*300

24*50

24

50

72

380*300*300